Audemars Piguet watches are a symbol of luxury, elegance and exceptional watchmaking craftsmanship.
Founded in 1875 in the heart of the Vallée de Joux, this watchmaking house has maintained an unsurpassed reputation for more than a century as one of the most prestigious watch manufacturers in the world. Audemars Piguet watches are prized for their innovative design, exceptional quality and meticulous attention to detail.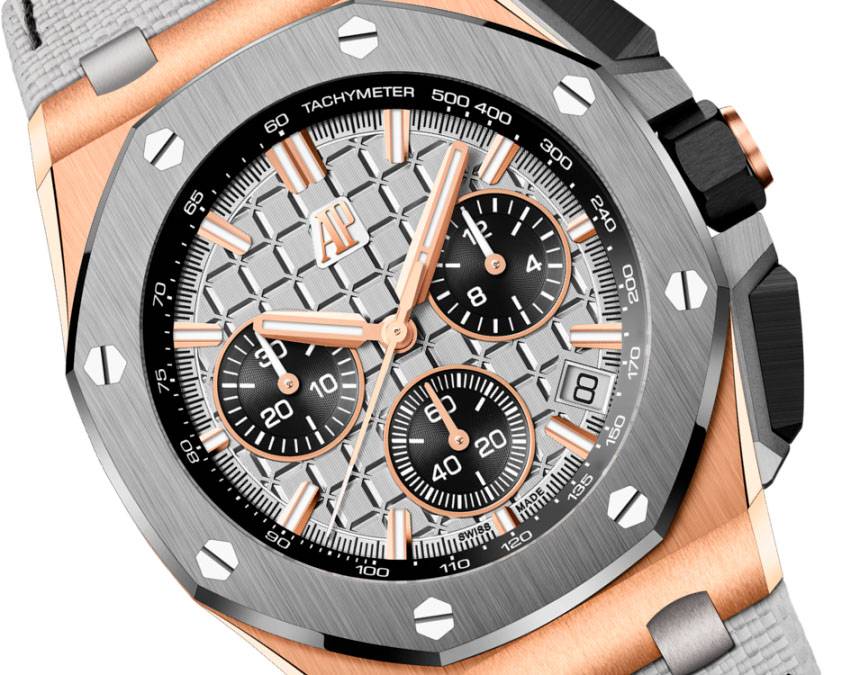 Royal Oak Offshore Watch: Automatic Chronograph
The Royal Oak Offshore is an extension of the iconic Royal Oak collection, which revolutionized the watch industry with its bold and sporty style. The Royal Oak Offshore watch takes this heritage even further, with even larger designs, a more pronounced sporty aesthetic and advanced technical features.
Features and highlights of the new Royal Oak Offshore
The warm 18K rose gold tones of the new Audemars Piguet Royal Oak Offshore harmonize with the modern style of the titanium bezel and the contemporary gray "Méga Tapisserie" dial that matches the calfskin strap.
18-carat rose gold case and titanium bezel, sapphire crystal and case back with anti-reflective treatment, black ceramic pushers and screw-down crown, titanium push-piece protectors and bolts.
Gray dial with "Méga Tapisserie" motifs, black counters and edges, applied indices and Royal Oak hands in rose gold with luminescent coating, black highlight.
Gray calfskin strap with 18K rose gold pin buckle and interchangeable strap system.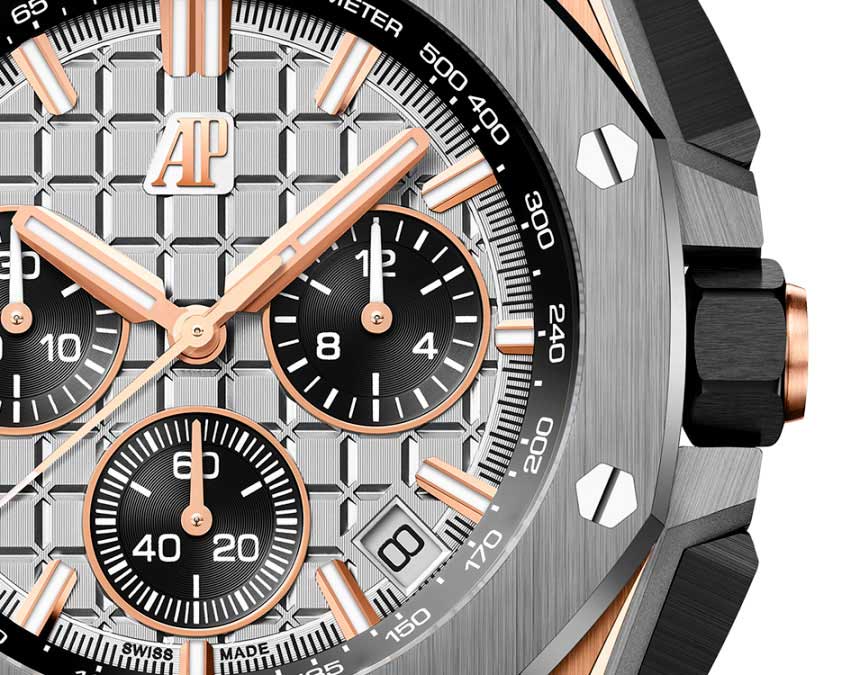 Royal Oak Offshore Limited Edition
Audemars Piguet's new Royal Oak Offshore watch, and any watch in this line, includes:
Avant-garde Design: Royal Oak Offshores typically feature a bold, modern design, with larger cases, prominent chronographs, and a sporty aesthetic that appeals to watch lovers seeking a distinctive and eye-catching look.
High Quality Materials: Audemars Piguet is known for using top quality materials in the construction of its watches. This could include stainless steel, gold, ceramic, or other high-quality materials in the case and bracelet.
Sophisticated Complications: The brand often incorporates advanced complications into its watches, such as chronographs, perpetual calendars or precise timekeeping functions. These features not only add utility, but also a high level of watchmaking craftsmanship.
Limited Editions: Audemars Piguet has released many limited editions of Royal Oak Offshore over the years, adding an element of exclusivity and collectability to the line.
Manufactured Movement: The brand usually uses manufactured movements, which means that the movements are designed and built in-house, ensuring a high level of quality and precision.
Please note that the exact specifications and features of each model may vary from year to year and from model to model. If you are interested in the latest Royal Oak Offshore model from Audemars Piguet, at Mosso we give you more information.